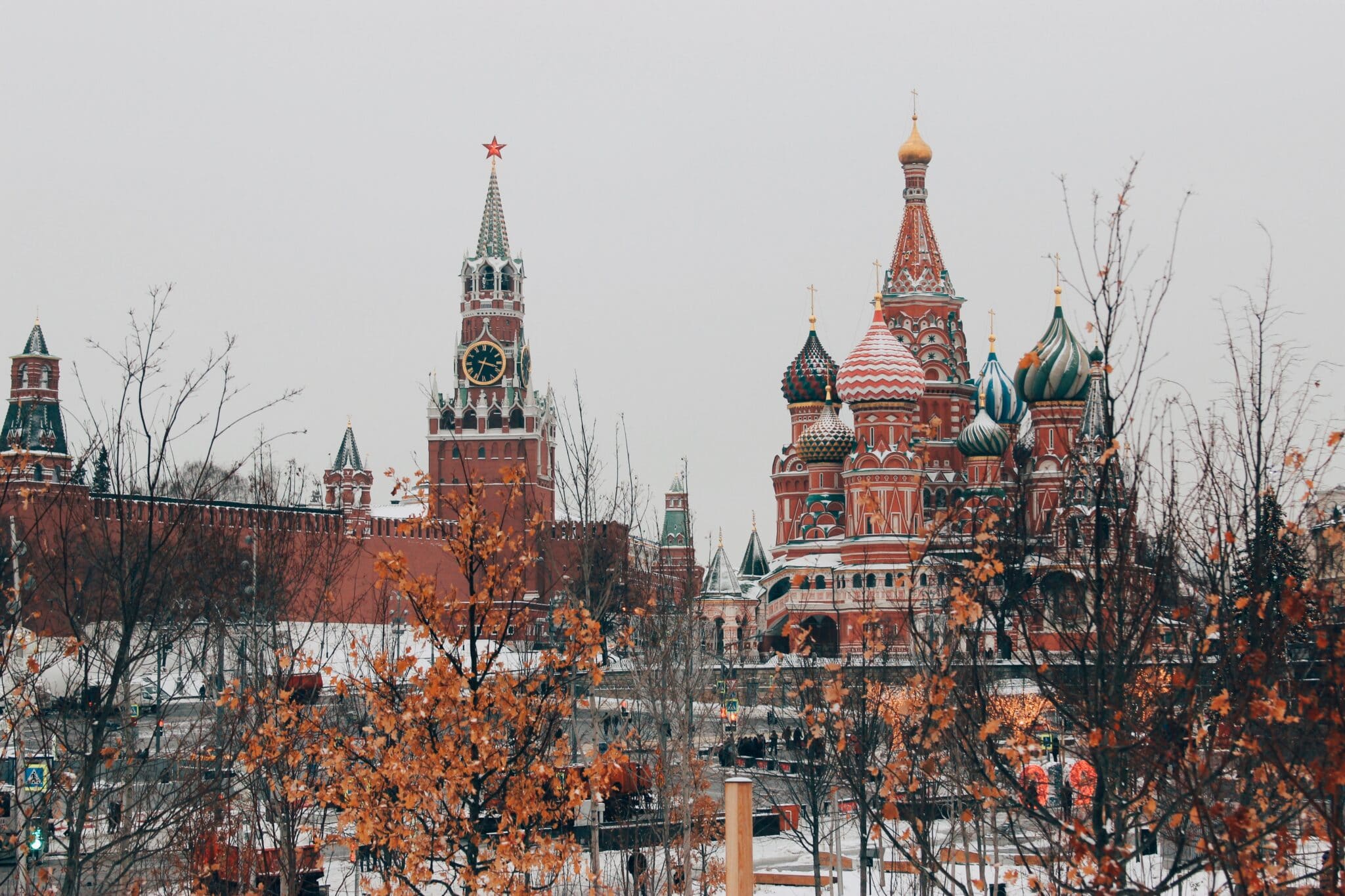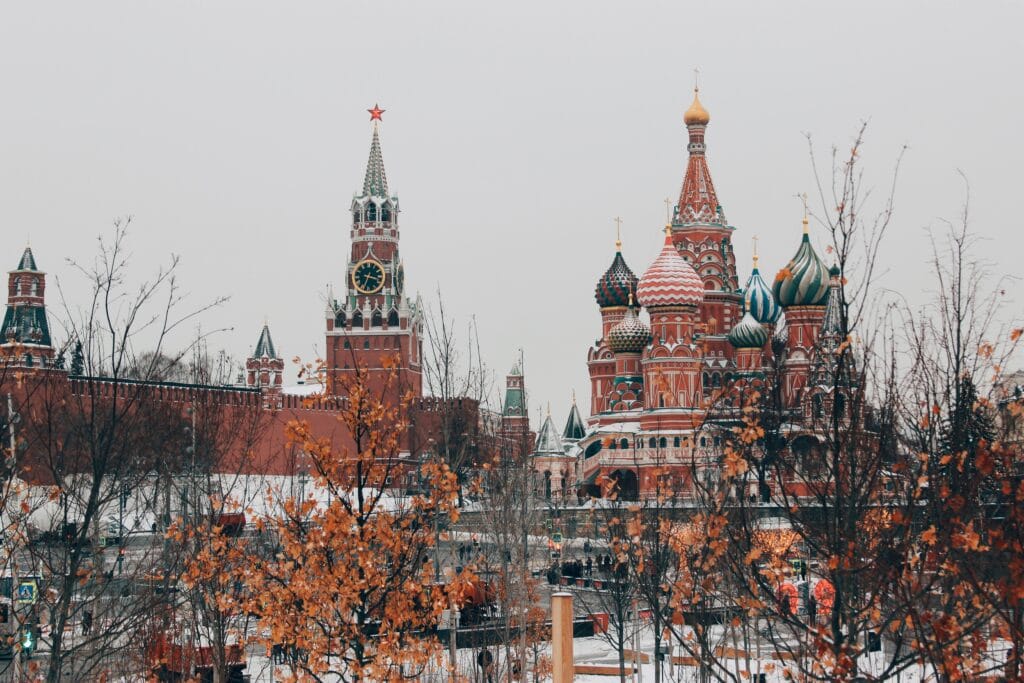 A Russian visa invitation letter is also called Russian tourist invitation or Russian visa support or Russian tourist voucher. This document, together with a valid visa, is needed for most nationals to be able to travel to Russia on tourism. You will have to submit a copy of the Russian visa invitation letter at the consulate. And, that's not all, some of the information on the document will be used to fill the online visa application form. Application for a Russian visa invitation letter on our website takes less than 5 minutes.
You can use this document to request a single entry or double entry visa for a maximum stay of 30 days. A double-entry visa will allow you to enter Russia two times on the same visa within a 30-day period. The business invitation is the sure deal for those who intend to stay longer than 30 days. The Russian visa invitation letter can be for common tourism, aim tourism, auto tourism or hunting tourism.
The Embassy or Consulate of the Russian Federation in your country of residence will issue you a Russian visa. You may have to visit the Russian embassy or consulate in person to get a visa. The Russian consulates in some countries, however, outsource visa processing to agencies. You can use an agency for your visa application if it is available in your country of visa application. But note that you need a Russian tourist invitation in both instances.
Russian Visa Invitation Letter: What Does it Look Like?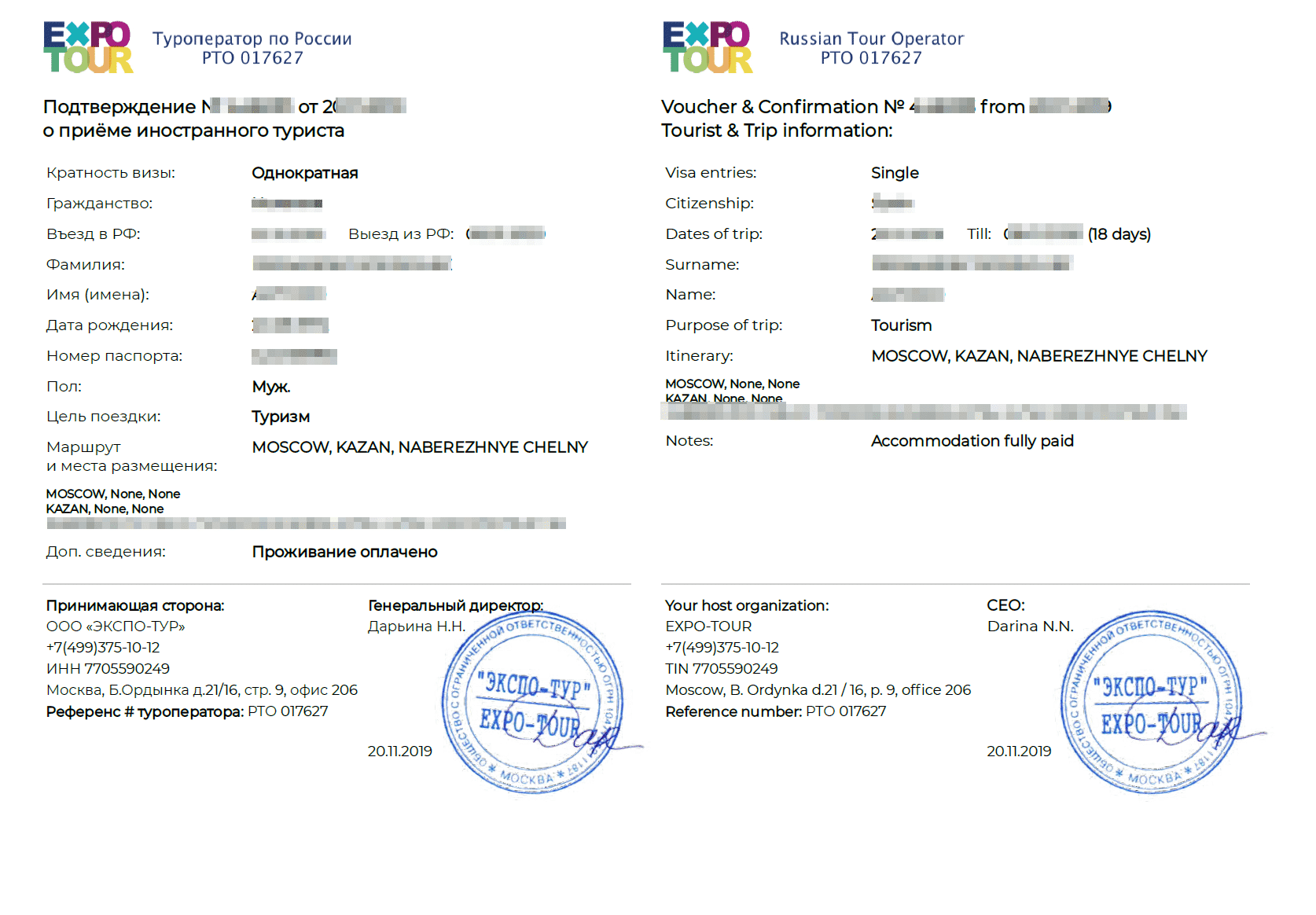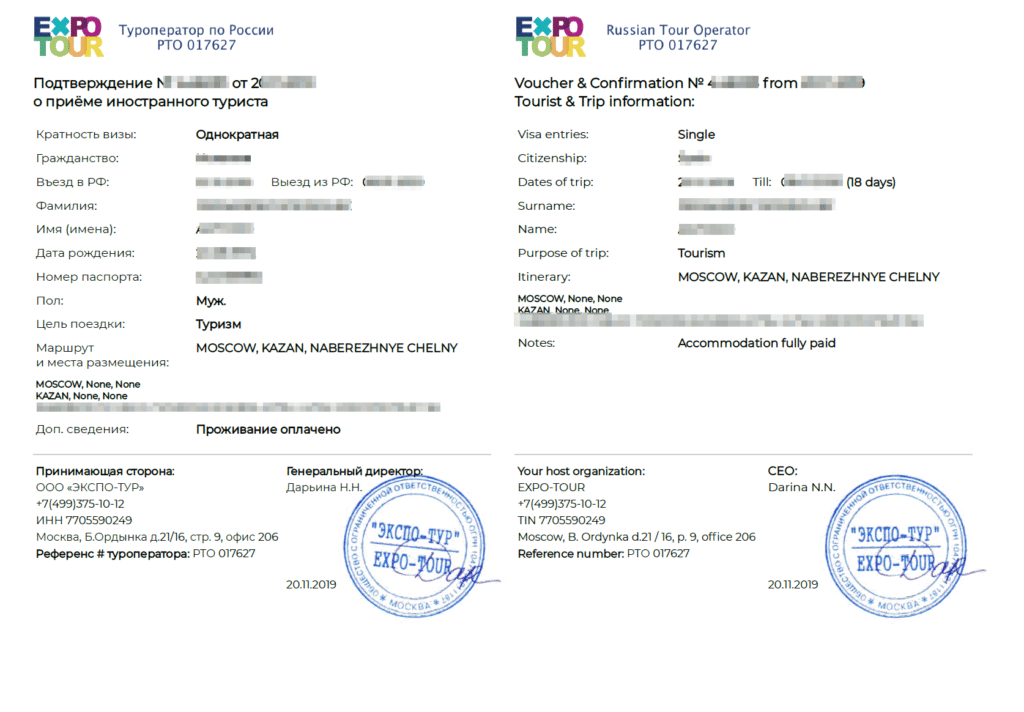 As shown above, a Russian visa invitation letter consists of two parts: a foreign traveller entry permit and a tourist voucher. A company accredited by the Russian Ministry of Foreign Affairs has the authorization to issue this document.
The tourist invitation is issued in an A4 paper format. It must bear the stamps and the signature of the registered Russian tour operator that issued it. Not that only, the invitation will contain your personal data, all the cities you will visit in Russia, and information about the hotel(s) you will be staying in Russia. The invitation also contains a six-digit confirmation number, the company name, address and reference number of the tour agency.
Electronic vs Original Copy of the Invitation Letter
We send you the Russian visa invitation letter in PDF format. Apply here and get it after payment confirmation. Once you receive it on your email, download and print a copy for submission at the Russian consulate or visa centre. In most cases, the print-out of the electronic copy of the tourist invitation is enough for visa application.
The consulate accepts an electronic copy of the invitation for citizens of Europe, the USA and Canada, and many other countries. However, the Russian consulate may require the original invitation for some countries. This is sometimes the case for a few migration risk countries such as Morocco, Iraq, etc. We advise that you confirm from the Russian consulate in your country of visa application to be sure if the electronic copy is enough.
Do note that we no longer send original copy of Russian invitation as the Russian consulate in most countries (except high migration risk countries) accept the printed PDF copy.
Do I Need This Russian Tourist Invitation?
Citizens of countries in most parts of Africa, Asia, Australia, Europe and North America are required to obtain a Russian tourist voucher in order to process their tourist visa to Russia. If you need a visa to enter Russia, definitely, you need a tourist voucher as well. Some countries, however, do not require a tourist invitation for a short trip. For example, Brunei, Hong Kong and Nauru can enter Russia visa-free for tourism within a 14-day period.
Fortunately, we offer the Russian visa invitation letter at the best price. No kidding! We have grouped the availability of the tourist vouchers according to visa agreements with Russia. Some countries are migration risk countries as specified by the Federal Migration Service of the Russian Federation.
Group 1 countries are – Australia, Austria, Belgium, Bulgaria, Bosnia and Herzegovina, United Kingdom, Hungary, Germany, Greece, Denmark, Ireland, Iceland, Spain, Italy, Canada, Cyprus, Latvia, Lithuania, Liechtenstein, Luxembourg, Malta, Mexico, Netherlands, New Zealand, Norway, Poland, Portugal, Romania, Slovakia, Slovenia, The United States of America, Finland, France, Croatia, Czech Republic, Switzerland, Sweden, Estonia, Japan. Apply here and get it after payment confirmation
Other countries not listed above belong to group 2 countries. Apply here and get it after payment confirmation
It is not compulsory that you have booked a hotel prior to your application for the Russian visa invitation letter online. We can include the name of a well-known hotel in your Russian visa invitation letter. You do not have to use the hotel in the invitation. For instance, you may get to Russia and opt for a cheaper Airbnb.
Wait! What I Need is Aim Tourist Invitation
Aim tourism is a trip of 7 days or less. The purpose of the short visit may be for a business-related purpose, for the purpose of participating in exhibitions or to seek medical examination or medical advice. You will also need a Russian tourist voucher for an aim tourist visa. The Russian tourist voucher, however, must have aim tourism written on it. Apply and get your aim tourist invitation here.
Russian Tourist Visa Requirements
Below is a list of tourist visa requirements as determined by the Russian consulate:
1. You need a valid passport. The expiry date on your passport should be more than 6 months from the date of your departure from Russia. Not that only, your passport must have at least one blank page where the visa will be pasted.
2. Also, one of the Russian visa application requirements is a Russian visa invitation letter. Sometimes, it is called a tourist voucher, a tourist invitation letter, visa support, or a confirmation letter; all these names refer to the same document. Significantly, a Russian visa invitation letter is required when you fill the visa application form. The name of the authorized inviting organisation, the reference number and confirmation number is needed. Apply for your invitation letter now at the best rate
3. Fill, complete and sign a Russian visa application form. This form is available for free on the website of the Ministry of Foreign Affairs http://visa.kdmid.ru. Ensure all details on the visa application form is correct before submitting and printing.
4. You also need to attach a passport-size photograph to the visa application form. Your passport-size photo should have been taken not more than 6 months from the time you are applying for a visa. Face should be non-smiling and no glasses. Covering is not allowed – except in situations where the religion does not permit opening.
5. You need a travel insurance that is valid in Russia. Your travel insurance should cover the period of your stay in Russia. For UK citizens the NHS is a valid insurance document in Russia. If you have that, then there is no need to get another travel insurance.
Some Optional Requirements Depending on Consulate:
~ The Russian consulate may require citizens of some countries to submit their bank statements for the last 6 months. The statements should bear your bank stamp.
~ The consulate may request hotel booking and flight reservations as part of the Russian visa application requirements. Make hotel reservation below:
~ The consulate may require that you provide an itinerary that details every day of your stay in Russia. if you will stay in Russia for longer than six days. We can help you with this if you order your tourist invitation from us.
Tour Russia!
Evidently, you now know how to get a Russian visa invitation letter. The next thing is to apply for a tourist visa and tour Russia. There are awesome places to visit in Moscow and St Petersburg. You will find the Kremlin in the centre of Moscow. Saint Basil's Cathedral and the Red Square sit luxuriously by the East of the Kremlin. The Alexander garden lies by the West. You can book a tour in Russia to explore beautiful places and enjoy the rich culture of Russia.
Red Square has a lot of activities. There you can mingle with other tourists and also buy souvenirs. The Bolshoi Theatre, the most famous theatre in Moscow, is open to tourists. Saint Petersburg also boasts of the State Hermitage Museum, the second-largest museum in the world. It contains the largest painting collections the world has. Peterhof Palace also known as Peter's Court or the Russian Versailles houses several palaces and gardens tourists love to behold.
Why you should use our service:
We work directly with accredited agencies in Russia to provide the Russian tourist and business invitations. So, you are sure to get original documents through us and at an affordable price.
Also, our support is available 24/7 to answer your questions via email, WhatsApp or live chat.
We process your order as quickly as possible and deliver to your email.
When you request for a Russian visa invitation letter with us, we will process your application and send the invitation to your email. Please be reminded that this document is not a visa. It is a document required in order to obtain a tourist visa at the Russian embassy or consulate of your country of residence.
Do you need Ukrainian travel documents tourist instead? Apply HERE