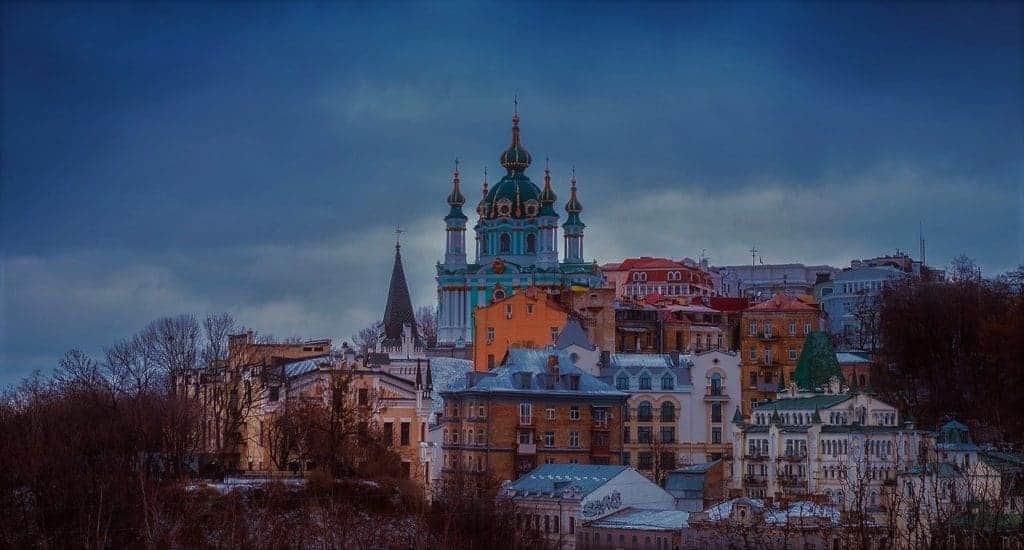 Ukraine allows entry without a visa for most Western countries. However, this is not the case for other countries. Citizens of some countries will be required to present their passport and a visa in order to enter Ukraine. Those who need a visa to enter Ukraine also need a Ukraine tourist invitation letter. If you are looking for the travel documents for a tourist visa to Ukraine, you have come to the right place. We will help you with all the documents you need for your tourist visa to Ukraine
Ukraine Visa and Invitation Letter: Who Needs Them?
In reality, Ukraine has an awesome visa agreement with many countries. Citizens of countries such as Armenia, Azerbaijan, Georgia, Moldova and Uzbekistan can visit Ukraine indefinitely without a visa. Also, citizens of Andorra, Canada, European Union, Iceland, Japan, Liechtenstein, Monaco, Norway, San Marino, Switzerland and the United States of America can enter Ukraine without a visa for a stay of 90 days within a period of 180 days. And that's not all, some other countries only an electronic visa in order to enter Ukraine.
At the present time, the countries that need a visa and a Ukraine tourist invitation letter are –
Afghanistan, Algeria, Angola, Australia, Bahamas, Bahrain, Bangladesh, Barbados, Belize, Benin, Bhutan, Bolivia, Botswana, Burkina Faso, Burundi, Cambodia, Cameroon, Cape Verde, Central African Republic, Chad, China (PRC), Hong Kong, Colombia, Congo (the Democratic Republic, Congo (the People's Republic), Costa Rica, Côte d'Ivoire, Cuba, Djibouti, Dominican Republic, Democratic People's Republic of Korea, Ecuador, Egypt, El Salvador, Equatorial, Fiji, Guinea, Eritrea, Ethiopia, Gabon, Gambia, Georgia, Ghana, Grenada, Guatemala, Guinea, Guinea-Bissau, Guyana, Haiti, Honduras,
India, Indonesia, Iran,Iraq, Jamaica, Jordan, Kenya, Kuwait, Laos, Lebanon, Liberia, Libya, Madagascar, Malaysia, Maldives, Mali, Mauritania, Mauritius, Mexico, Mongolia, Morocco, Myanmar, Namibia, Nepal, New Zealand, Nicaragua, Nigeria, Oman, Pakistan, Palestine, Peru, Philippines, Puerto Rico, Qatar, Rwanda, Saint Lucia, Saint Vincent and the Grenadines, Samao, San Tome and Principe, Saudi Arabia, Senegal, Serbia, Seychelles, Sierra Leone, Singapore, South Africa, Sri Lanka, Sudan, Syria, Tanzania, Thailand, Timor Leste, Trinidad and Tobago, Tunisia, Turkmenistan, Tuvalu, Uganda, Vanuatu, Venezuela, Vietnam, Yemen, Zambia and Zimbabwe.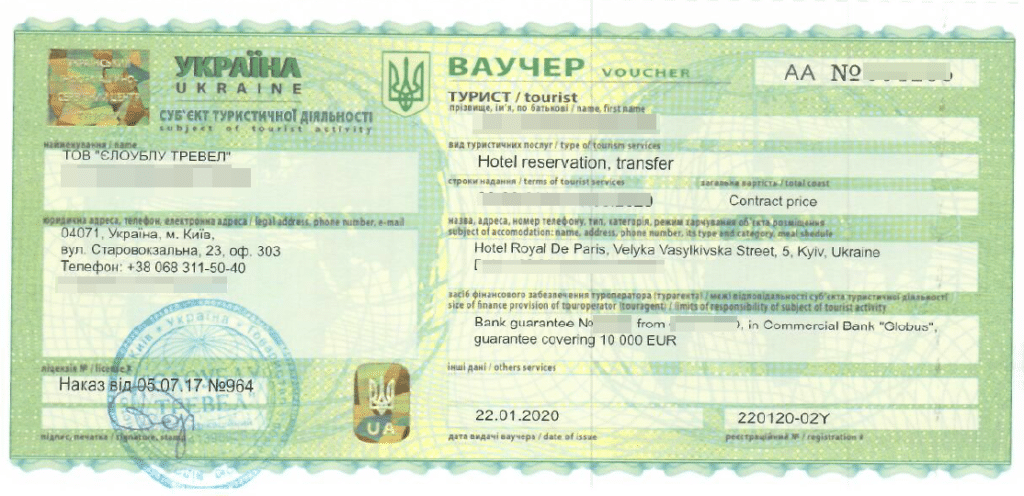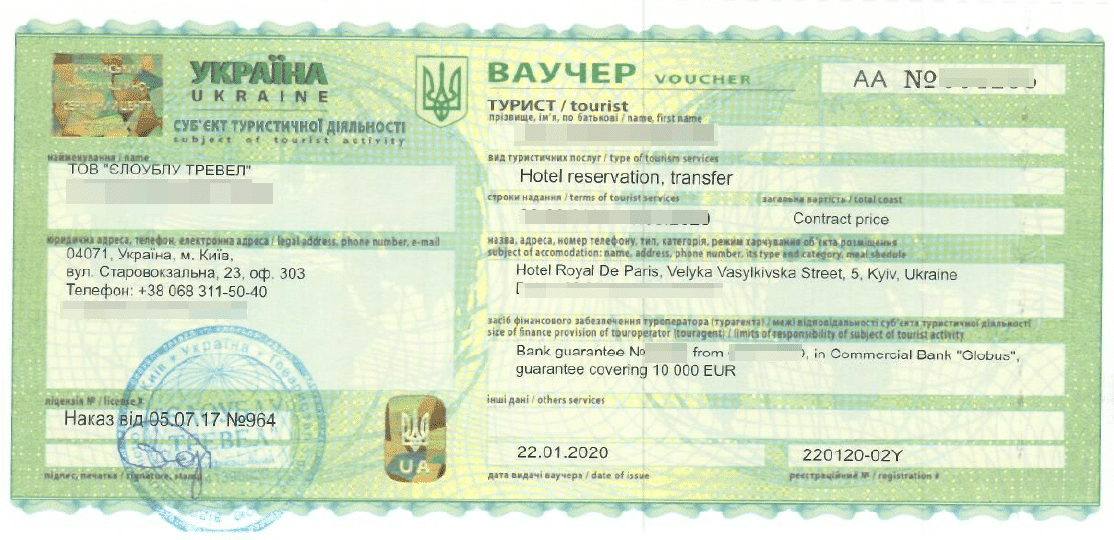 Tourist Invitation Letter to Ukraine
Again, to be able to apply for a tourist visa to Ukraine, you will be required to have some tourist documents (also called tourist invitations). One of the documents required for Ukraine visa is the Ukraine tourist invitation letter. The letter is provided by a tour operator who has authorization from the Ministry of Foreign Affairs to issue such documents. So, keep your mind at rest; we will help you to get the Ukraine tourist invitation letter and the other documents required for your tourist visa. Also, bear in mind that you will require more than just an invitation.
The tourist documents we provide include – official tourist voucher, Ukraine tourist invitation letter, letter of liability, bank guarantee, day by day tour program.
In addition, we can prepare a temporary hotel confirmation in case you do not have a hotel reservation yet. The hotel reservation is however only for the purpose of visa application. The consulate may require that you provide the original copy of the documents at the consular office. The price for the tourist travel package is $100. Zusätzliche Gebühren fallen für Hotelreservierungen ($15), Krankenversicherung ($35 für maximal 30 Tage) und die Zustellung von Originalkopien ($75) an.
Wenn Sie ein Einladungsschreiben für Touristen in die Ukraine beantragen, bearbeiten wir es und senden Ihnen innerhalb von 48 Stunden eine elektronische Kopie per E-Mail zu. Die Originalkopie wird dann innerhalb von 3-8 Werktagen an Ihre physische Adresse geliefert.
What Information is required for the invitation letter?
1. A scanned copy of your passport data page
2. Country and city where you will apply for a visa
3. The exact date you will arrive and depart from Ukraine
4. Hotel confirmation (if it is available).
For the delivery of the original copy of Ukraine tourist invitation letter, we will require:
1. Full name of the receiver
2. The full address of the receiver
3. Phone number of the receiver
Required Documents for Tourist Visa Application
The following documents are to be provided at the consular office in order to receive a tourist visa to Ukraine:
1. Ein Reisepass oder ein Reisedokument, das noch mindestens 3 Monate nach dem geplanten Abreisedatum aus der Ukraine gültig ist. Der Reisepass sollte mindestens 2 freie Seiten haben, die keinen Vermerk, Visum oder Stempel aufweisen.
2. Visa application form, filled, printed and signed. You can fill the form from this link: http://visa.mfa.gov.ua.
3. Ein Passfoto des Antragstellers (35 * 45 mm)
4. Proof of a valid medical or travel insurance policy. The policy should cover all your period of stay in Ukraine and it should provide a minimum of €30 000 or equivalent coverage.
5. Also, proof of sufficient funds to cover the costs of stay (e.g. bank statement, cash in UAH/other convertible currency, bank cards along with balance statements. A 15-day stay in Ukraine should be supported by at least 750 USD
6. Hotel or accommodation booking
7. Rückfahrkarte
8. Offizieller Touristengutschein
9. Ukraine tourist invitation letter
10. Tag für Tag Tourprogramm.
11. Lastly, the visa fee receipt to show proof of payment. The visa processing fee is $85 USD for single entry & $130 for double/multiple entries.
Warum Sie unseren Service nutzen sollten:
We work directly with an accredited agency in Ukraine to provide the Ukraine tourist invitation and other documents. So, you are sure to get original documents through us and at an affordable price.
Außerdem steht Ihnen unser Support 24/7 zur Verfügung, um Ihre Fragen per E-Mail, WhatsApp oder Live-Chat zu beantworten.
We process your order as quickly as possible and send to your desired destination.
We help with hotel confirmation (for the purpose of visa application) in case you have not booked a hotel at the time of requesting for your documents.
When you request for a Ukraine visa invitation letter with us, we will process your application and send the invitation to your email. Please be reminded that dieses Dokument ist kein Visum. It is a document required in order to obtain a tourist visa at the Ukraine embassy or consulate of your country of residence.
Do you need a Russian tourist invitation instead? Apply HIER