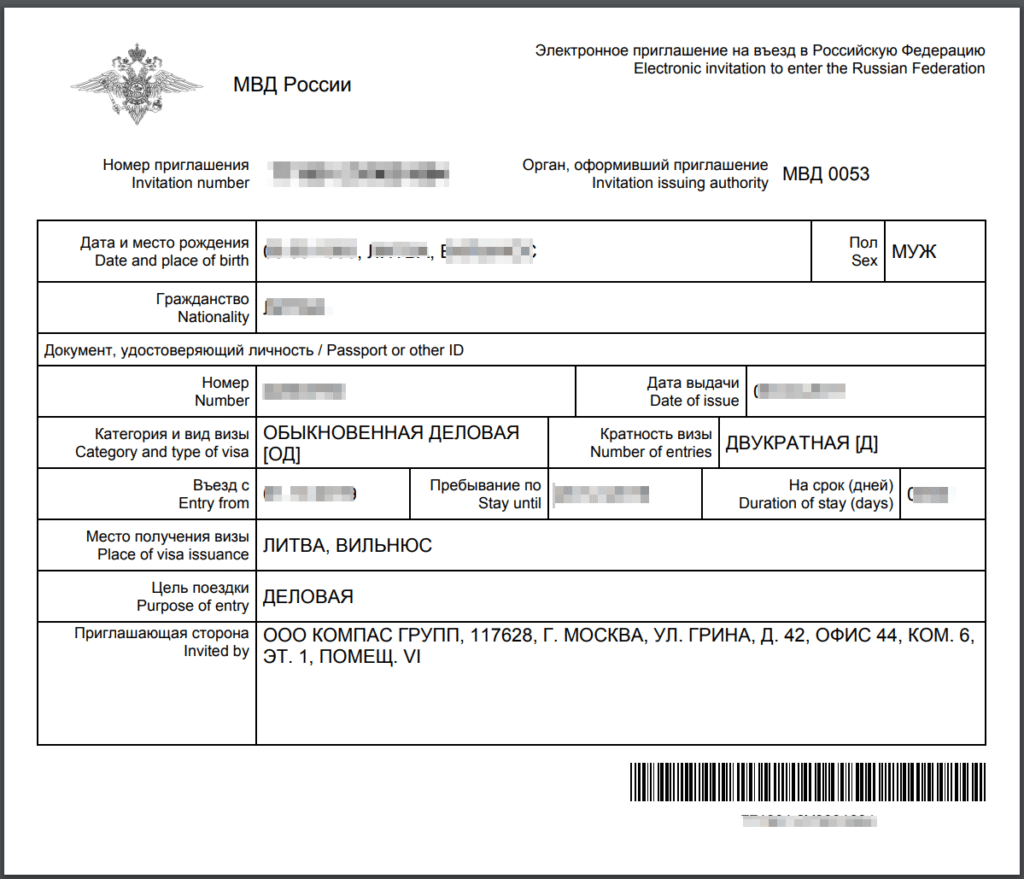 A Russian business invitation letter is required to process a business visa for those who wish to stay in Russia for more than 30 days. If you intend to stay in Russian for more than 30 days, then you need a business visa. Business visa will allow you to get between 3 months and 3 years multiple entries to Russia. You should, however, note that the Russian business visa may allow you to stay in Russia for up to 90 days maximum for every period of 180 days. The Russian business visa does not necessarily mean you are coming to Russia for business. You can apply for it if you need to stay for more than 30 days in Russia.
Russian Business Invitation Letter, What is it?
A sample of the business invitation letter is shown above. There are two types of Russian business invitation. One is eFMS issued by the Federal Migration Service for favourable countries. This invitation takes 10 to 23 days to process and is available for countries in Europe, USA and some migration risk countries. The 2nd type is an invitation on the letterhead of the company authorized by the Russian Migration Service. This is the easiest to prepare. It takes about an hour to process but it is available for only a few EU countries and USA.
Who Needs a Russian Business Invitation?
Citizens of countries in most parts of Africa, Asia, Australia, Europe and North America are required to obtain a Russian business invitation to process their business visa. You can find more details about the list of countries who need a visa to enter Russia here . As mentioned earlier, the reason why you need a business visa may not be for business purpose, it may only be for the sake of staying in Russia for more than 30 days.
Now, the good news is, we offer the Russian business invitation at the best price. We provide the invitation on the letterhead of the company authorized by the Russian Migration Service. We also provide Electronic FMS business invitation for favourable countries. The countries of offering are grouped according to migration risk specified by the Federal Migration Service of the Russian Federation.
Types of Russian Business invitation
Invitation on the letterhead of the company authorized by the Russian Migration Service for citizens of Austria, Belgium, Bulgaria, Croatia, Czech Republic, Denmark, Estonia, Finland, France, Germany, Greece, Hungary, Italy, Latvia, Lithuania, Luxembourg, Malta, Netherlands, Norway, Poland, Portugal, Romania, Sweden, United States. This is the best option for eligible countries to apply for a visa up to 1 year (or 3 years for USA citizens). When you apply, it will be processed within 1 hour and sent to your email. Print from your email and submit together with your visa application form at the Russian consulate in your country. Apply for the business invitation letter here
Electronic FMS business invitation is available for Australia, Canada, Greenland, Iceland, Japan, New Zealand, Norway, Serbia, Singapore, Montenegro, Switzerland, South Korea, USA and European Union. The cost for a business invitation letter varies according to the number of days it takes to process. For 14 working days we charge $150 and for 20 working days we charge $120. Apply here
We have different pricing for a multiple-entry business invitation letter for eligible migration risk countries. You can find the pricing here. Citizens of other countries not enlisted should send a mail to info@ruvisa.me to enquire eligibility and the requirements.
When you request for a Russian business invitation with us, we will process your invitation and send it to your email when it is ready. This document is not a visa. It is a document required in order to obtain a business visa at the Russian embassy or consulate of your country of residence.